Webtron Online Auction Software
FIFE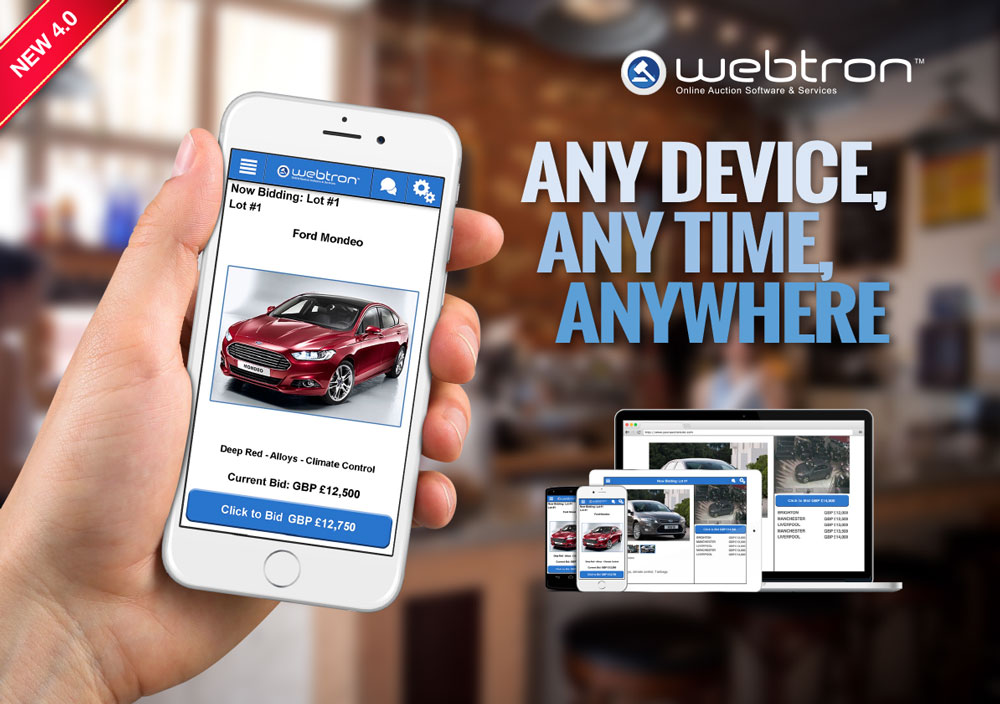 Drive your business's automotive auction sales with Webtron online auction software
Fife auctioneers: Auction your vehicles quickly, and cost-effectively with Webtron's robust, and professional online auction system. Webtron can help you compete with some of the largest names in your industry, with our robust, and bidder-friendly auction software.
Increase bidder engagement with your business, and drive your sales online, with your own branded auction hub - found on your own website! Webtron's Online Auction software eliminates the need to interact with third-party and group websites to sell your vehicles. Run branded live webcast or timed sales from Fife, and stream it to online bidders in the UK and beyond.
Our state-of-the-art online auction solution is proof of ten years of accumulated industry experience with driving bidder engagement for auto auctioneers. We know what it takes to sell cars online. In fact, Webtron has boosted the profits of numerous automotive auction companies around the world since 2007.
At Webtron, we provide auto auctioneers with a simple, professional and quality online auction solution designed to drive your business's success online. And because everything is run off your own website, you maximise bidder engagement with your brand. Our software is designed to cultivate bidder loyalty, and to promote sustained business growth for your business. If your Fife automotive business needs to move more vehicles out the door, Webtron's online auction platform is the answer.
Manage a branded hub for all of your online auction needs on your own website:
Industry leading and feature rich Live Webcast Auctions;
Pre-recorded and live video streaming options for webcast, pre-bidding; and
Rotating picture gallery- list as many vehicle pictures as you like
No expensive hardware required - copy and paste a simple line of code to get started!
Robust and fast local server infrastructure
Managed by you with user friendly features and customisations for your employees;
Your own brand, colour scheme and logos;
Works seamlessly across all browsers, computers, tablets and smartphones; 
Run all from your own site!
eBay style Timed Auctions
; 
Low fee structure
; 
Bidder data privacy – your bidders stay your bidders

Runs on your own website and managed by you
 
Multiple languages and currencies
 
Simple and easy for you and your bidders;
Mobile bidding on Apple and Android phones and tablets

 Bulk imports for your bidders, lots, and photos;
Real time reporting;
Online Support and more.
Mobile webcast bidding allows bidding access your customers, regardless of where they are! Reach your bidders Any-where Any-time and on Any-device.
Give your customers the bidding features they want with Webtron's Online Auction Software. 
Automotive auctions lend themselves particularly well to the live webcast auction format. Live webcast auctions are known for generate more atmosphere and interaction at the event itself, while creating more competition for every single vehicle you sell.
What's more, your online bidders will enjoy a highly interactive and engaging experience with a range of features such as:
Rotating car picture galleries - load as many detailed vehicle pictures as you like
Detailed vehicle reports
Interactive chat
Printable catalogues 
Video options
Fife automotive auctioneers, don't wait another second. For a feature-rich, powerful online auction alternative, contact Webtron on 0844 579 117 now.
Learn More

Sorry, no articles matching this criteria.